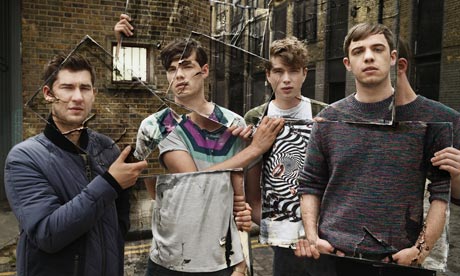 Today I spoke to Jeremy from the wonderful Everything Everything. Their debut is a real treat, there are links at the bottom of the page to places where you can give it a spin! Anyway, here is how my chat with Jeremy went. For the record, he was a really nice and chatty guy:


"Two days ago we met Rolf Harris. We saw him in the car park at Bestival. As we got on to the ferry, he was at the top of the stairs waiting for us, and he said 'Here they are!' We thought, how does he know who we are?"

Jeremy Pritchard, bassist in Britain's latest (and probably only) boundary-pushing art-funk-electro-pop-indie group Everything Everything certainly wouldn't have expected to gain a fan in the Australian icon, but then again, who would?
"He has a rapper in his live set who is a big fan of us, and he introduced Rolf to our band," explains Pritchard of the encounter so mad that it has to be true. "Over the tannoy system on the ferry he sang 'Two Little Boys', and he said 'Come on Everything Everything, join in!' in the middle of it. John (Higgs, lead vocals and guitar) said, 'we need to retire, we've peaked already!'"

If anyone is saying that Everything Everything have reached a peak in their career, the comment will certainly be followed by 'so far'. After all, this is a band on the up and up. A series of attention-grabbing singles increased attention for debut album Man Alive, released in August, emerging critically lauded and currently surprising pretty much everyone who gives it a listen.
"When the press came out, it wasn't daunting. It was just surprising, the volume of positivity. We expected it to be much more 50/50."

However, some of the overly positive reports exceed Jeremy's own opinion of the album.
"A lot of the reviews that said 'This is great, this is brave and ambitious, but here are the weak points', we agreed with those more than the ones that said 'Ten out of ten'. We didn't want to make a 'perfect' record first time round, we want to grow."

He adds: "As a document of the past two years of the band I think it's exactly what we wanted it to be. There's very little in the way of compromise of what we wanted, none in fact. We're very proud of it."

The intricacy and complexity of Everything Everything's music has led to them being hailed as the pioneers of new, intelligent genre-defying pop, and is a result of the group's collaborative songwriting.

As Jeremy explains, "John has the core of every song and all of the lyrics, but everything else is open. He'll write something on his guitar, keyboard or laptop, either chords or a melody, or a whole arrangement. We always dismantle it and put it back together and try to make it human again."

Even with just the bare bones of a song, John's ambitious and offbeat tunes can sometimes be a challenge for the other bandmates to initially get their heads around.
"With 'Weights', all the rhythm tracks and the verses were mapped out, so I just had to learn it," says Pritchard. "The rhythmic scheme of that took me a while to get to grips with. Singing and playing the parts at the same time in that song was really challenging. We had a whiteboard up with this ridiculous equation on it telling us how to play the ending."

This soon-to-be-trademark complexity is never forced upon the music, though, Jeremy describing it as "visceral and natural."
"We're not trying to be awkward," he claims. "In fact, now we're trying to work away from those instincts to be complex."

The rest of the year sees the band tour the UK in a slew of dates across the country. Crucial to the tour will be the band's attempt to bring the intricacy of the album to the stage.
"I don't understand why bands use certain colours and textures on the record, and when they come to play it live go 'We'll just get the guitars out'. I'm always disappointed if I see an act that doesn't value the sounds they've used on its album," he says. "We've put them there for a reason, so we do want to play them live."

Everything Everything tour the UK in October - tickets can be found here.

Everything Everything's album 'Man Alive' is currently streaming in its entirity on their Myspace page and is also on Spotify.