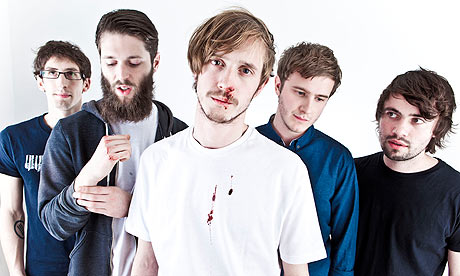 Peter Liddle of up-and-coming folk band Dry the River has come a long way to get where he is today. And I don't just mean in terms of his career.
"I never knew how far away Newcastle is… but it's fucking far away," he says, sitting in the band's tour van. The group have driven up all the way from Brighton today to support Bombay Bicycle Club at the O2 arena this evening.
He gives me the 'grand tour' of the van: covered in clothes, books and crumbs. "Those three seats at the back are where we sleep when we're doing really long drives and stuff, and sometimes we put roll mats down there."
Sounds like a pretty grim lifestyle, I say. "It's actually really quite nice to sleep down there!" replies Liddle. "It's really quite dark, and the gentle rocking of the van puts you to sleep."
Even at home, the band hardly live in luxury. When not on tour, all five band members live together in a two-bedroom house in Stratford. "We live on mattresses, and we have a rehearsal room in the basement," he says. "It's not glamorous in the slightest!"
Sporting a moderate beard and several tattoos, Liddle looks every part the rock star. But this onetime punk was also once a medicine student who dabbled in journalism in his spare time, interviewing Robert Winston in the house of lords for The London Student. "He took me into the restaurant they have in there and bought a pot of tea and some sandwiches," he says. "It was amazing."
After this current tour of the UK, Dry the River are off to New York to play the CMJ music festival, and then a European tour with another labelmates The Antlers. "We played at Reading and Leeds with them it's gonna be cool to tour together," says Liddle. "With mates!"
The band are known for their loud and energetic performances - not something usually associated with folk music.
"We all grew up in hardcore bands and punk bands," muses Liddle, "so it was always the way we played - less attention to really accurate playing, more trying to bring an intensity to the live show."
Liddle tells me about the debut album - as yet untitled - which is planned for release in February. "It's finished. We did it in the US, in Connecticut, with a producer called Peter Katis who did the National, Interpol, Jónsi's [from Sigur Rós] album.
"We wanted to make an album that's not too hi-fi, not really polished and modern-sounding - but not super lo-fi either. Peter's equipment is all analogue stuff that all has a really old feel to it. He has a really great ear to making textured records."
Being based just sixty miles north of the big apple had further perks: "At the weekends, we went to New York and played a few shows. Some of the guys from the National came to see us!"
So, in the unfortunate case that this jet-setting lifestyle falls through, what will Liddle do? Finish off his half-complete medical degree?
"People keep saying that, yeah! Trying not to think to hard about it… either that, or do a masters and go into something completely different."
"People always say, 'where are you going to be next year?' and I sort of think, well if we're still doing this I'll be over the moon. They're always like, "bet you can't wait for the massive tour buses and big stadiums and whatever" but we absolutely love every day at the moment and we're so lucky to be able to do this for a year.
"If I can do it for another year it would be equally brilliant," he adds. "But you can fall into the trap of constantly wanting bigger and better things without appreciating the fact hat we're known, full time musicians, which is all I've ever wanted to do. And it may not be glamorous but we get to play shows every night, and we don't have to have day jobs, so it's pretty amazing. So we're trying to take every day as it comes and really enjoy ourselves."
A version of this article was originally published in The Courier.